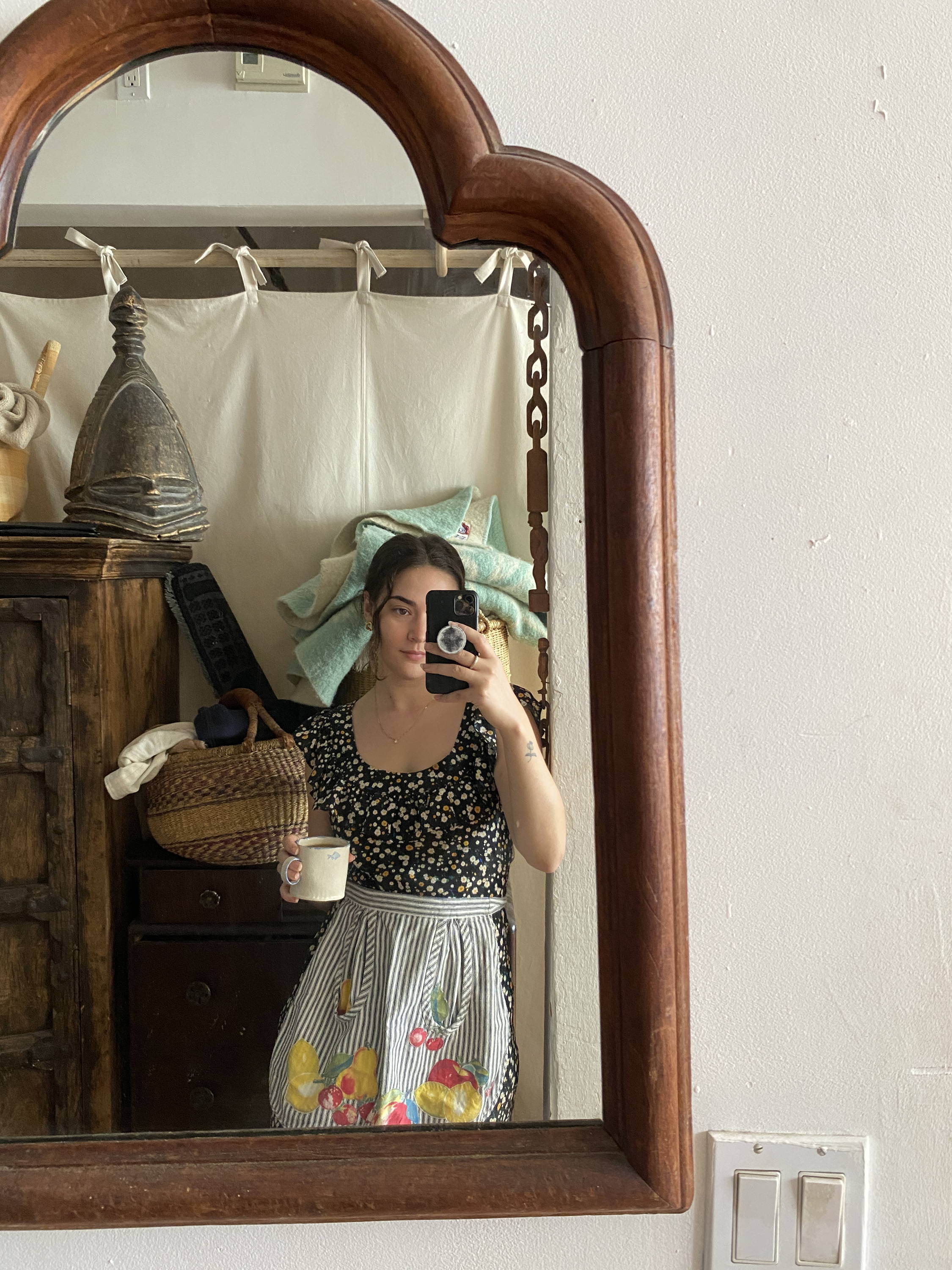 Name: Lily Harris
Pronouns: She/Her
Where are you based? Brooklyn, NY (by way of Minneapolis, MN)
Tell Us About Your Career
My goal as a certified Holistic Health Practitioner is to help clients connect the dots between how they feel & how to heal without the added stress, money, time, & stigma that I experienced through my own health journey. I've worked in the fashion industry for 12+ years between Minnesota, California, and NY. I put myself back through school to pursue holistic health after my own health issues fell between the cracks of US western medicine's scope. I have a lifetime of love for food & health.
What does holistic health mean to you?
"Holistic" is both a viewpoint & a mindset. As a viewpoint, I work with clients holistically, looking at the full picture of their life. I look at how they feel mentally & physically, their health history, sleep, food, movement, & so on. As a mindset, I encourage clients to think holistically to find the root cause of a behavior or symptom. For example, do you experience an afternoon energy slump? There are multiple factors that add up to this slump & connecting those dots as your own detective is the skill that I aim to help you hone. As individuals, we know our bodies the best, so building confidence around health is key.
You're clearly passionate about nutrition and have mastered the art of home cooking.
Where do you garner the most inspiration for your recipes?

Seasonal produce, old cooking videos, cookbooks, family recipes, & cravings. Cravings & emotional eating don't need to be viewed in a negative light. Many of my meals are built off of nostalgia, homesickness, the desire to recreate a dish from a past vacation, or as a way to transport myself to a different climate for a moment. I aim to recreate family recipes with healthier ingredients & I often think, "Would my mom like this? Or my grandma?" Beyond nostalgia, I firmly believe that my healthy recipes are an antidote to convenience culture & the idea that I can get one person cooking for themselves is inspiration enough!
Describe your current wellness regimen (spiritual, physical, emotional, financial)

I would love to say that I go on meditation retreats & speak to my guides, but realistically I juggle two careers as I transition into Holistic Healthcare full time. That involves a lot of planning. Consistency can be sexy too! Waking up early, preparing meals for myself, allotting time to workout, getting adequate sleep, having time to decompress, going for walks, calling my brother or friends to talk about life, taking a nap when I need one, & giving myself a face massage at night all help.
Financial wellness is something that should be spoken about more. I didn't grow up with education surrounding money, so I'm late to the game. Saving money & spending within my budget is key for growing older, following my passions, & stress relief. Temporarily foregoing trips in order to save for my future is where my head's at right now. It's just my current reality as I transition into a new career, but I remind myself that it's all in an effort to grow, which is intensely positive.
I'm also my own hype-woman, as cheesy as that may sound. I love listening to music to set a mood, I love being active, I love lapping people in my swimming pool, I love looking for inspiration in the world. Lately I feel a bit overwhelmed by all the options, but lucky that there are so many things that I want to do! That has been a big motivational reminder to myself lately. Oh! I also take vitamins & supplements paired with a healthy diet & lifestyle.
What herbs are you finding the most support from in your current regimen?

 I love chamomile, mint, & rose teas to calm myself. I don't know what it is about rose tea, but it makes me feel romantic & almost royal. When life brings me into my head & out of my body, I love utilizing Wooden Spoon Herbs Aphrodisia. With cold weather & mask-wearing, I've turned to The Light Ray for support as well. In the mushroom world, Reishi has been supporting my immune system & energy.
How do plants inspire your personal practice?

This is a deceivingly tough question. Everyone should have access to plants, whether in the form of food or outdoor space. Food sourcing, aka plant sourcing, is a hobby of mine & eating seasonal plants is my inspiration. In all honesty, I feel disconnected from nature in New York City, so I soak it up when I drive out of town, when I return home to Minnesota, or when I'm traveling. I volunteer at Phoenix Community Garden, a community garden in Brooklyn, when I have time. My main connection to plants right now is enjoying the colors of seasonal produce that I have access to daily & perusing the farmer's market.
What are your favorite herbal products currently?

What are you most looking forward to in 2022?

In 2022, there's a lot of unknown, but I'm looking forward to continuing to grow into the person that I want to become. There's always more to learn, so I look forward to both reading more books & pushing myself outside of my comfort zone. My main focus shift for 2022 is removing fear & moving with love. It's lofty, huh? I also aim to give more focus to friendships. As I've been working two jobs, it has been easy to isolate, but more time with friends sounds great right about now.
The past 2 years have been difficult for a lot of folks. What have you learned in your personal journey through the pandemic?

This one might make me tear up. The pandemic has made a few personal beliefs stronger. Now more than ever, I believe in removing assumptions & judgment while increasing empathy. I hold less space for fear. With two autoimmune conditions, I've previously felt slightly more fragile than others, but now I clearly see that I'm very strong & those conditions have brought me to where I am now. I no longer have a lot of room for small talk or conversations about material goods, but that gives me more time to focus on what's important to me & have deeper conversations. I value the work that I do in health now more than ever & I definitely believe in hugs, through it all.
Tell us about your renowned smoothies!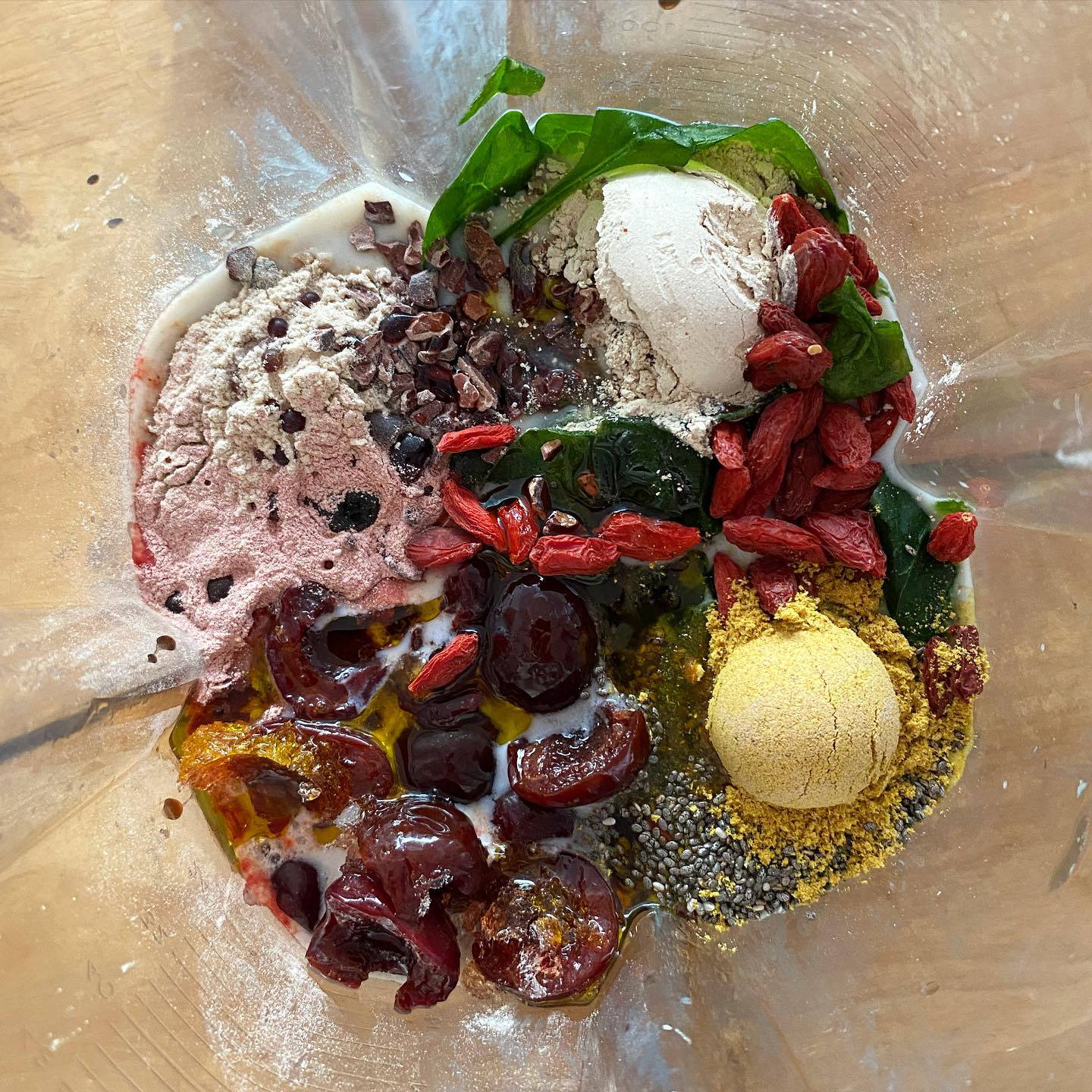 I'm always looking for easy, nutrient dense meals for myself & clients. Smoothies happen to be my favorite way to fit in a little bit of everything we need & they work well on the go. I teeter between a type A & type B personality, so smoothies help me check off my list of nutrients while playing with eye-pleasing color schemes. I share my favorite smoothie recipes, along with other recipes, on my Patreon cooking club here! Overall, smoothies remove decision fatigue by providing a quick & easy meal, they're easily digestible, & they're a great way to sneak in more herbs & adaptogens.
A quote or affirmation that's currently resonating with you?

I have a whirlwind of them going through my mind these days, so maybe one of them will be helpful to others…
The grind is temporary.

Time may be out of your control, but having the desire & curiosity to explore so many things is a blessing.

I'm in the practice of asking myself, "How is this serving the future me?"

More often than not, reminding myself to take a deep breath.

If it feels scary, it's probably a good thing.

I can't make myself irreplaceable to anyone, so putting myself first is the only option.

Rumi has had me thinking about, "The moment you accept the troubles you've been given, the door will open."

There's no rush
Where can people find you?